Sept. 2020:
Dr. Kerrigan has been awarded the Pitt-Johnstown Natural Sciences Vizzini Teacher of the Year award for 2019-2020. The Dr. Edward A. Vizzini Teacher of the Year Award is awarded to a professor each year in the Pitt-Johnstown Division of Natural Science who has been nominated by their students or colleagues for their strength in educating, both in and out of the classroom. I am truly humbled by the wonderful students who nominated me. Thanks!
Old News

Apr 14, 2020:
I just found out that I have received tenure and a promotion to Associate Professor, so that is some good news during a tough, remote semester!
Mar 1, 2020:
Great Job by Kyle Sarver and Susan Ma presenting our research at the Pennsylvania Council of Professional Geologists!!!
Really Great Job Guys!!! This is from research that was collected this past summer (see the Aug. 15th 2019 post below). Thanks again to Professor Neil Coleman for co-authoring and providing valuable geophysic expertise!
Dec 10, 2019:
Submitted our abstract for Northeast GSA, looking forward to presenting in Reston in March with UPJ students Kyle Sarver and Susan Ma and UPJ Prof Neil Coleman!
Our abstract is titled,
Using Geophysical Methods to Delineate Lithological Boundaries in the Pennsylvania Piedmont.

Sept 22, 2019:
Presenting at GSA Phoenix with UPJ students Kyle Sarver and Susan Ma.
I am giving a talk about Spring Break Trips as Educational and Recruitment Tools in the Geosciences on Sunday the 22nd
Susan is presenting her poster on the fluvial dynamics of the South Fork of the Little Conomaugh River on Sunday
Kyle is presenting his poster on the petrology of piedmont ultramafic on Wednesday
Aug 15, 2019:
Just returned from a good week in the field with Kyle Sarver and Drew Scarbro conducting a geophysical survey of ultramafics and granites in the PA Piedmont.
Conductance survey in a granite quarry with the EM-31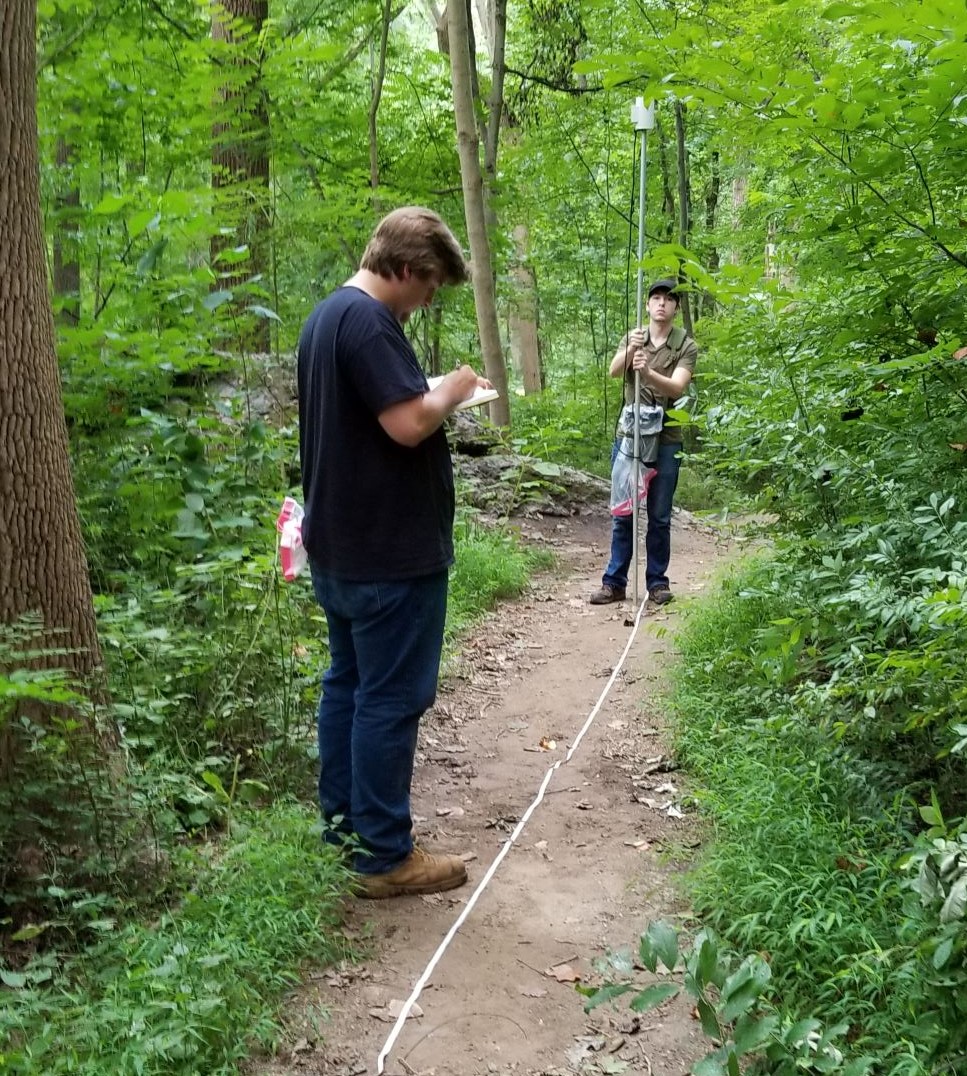 Magnetic Survey along a trail through some ultramafics.
May 1, 2019:
After a long haitus to resolve web hosting issues, my website is back up. Starting the summer strong! Getting projects started with my students.